Deepavali, the Festival of Lights, illuminates homes and hearts across Malaysia. It's a time of togetherness, symbolizing the victory of light over darkness and good over evil. One of the cherished traditions during this festival is the exchange of gifts, a gesture that embodies love, appreciation, and a sense of shared heritage.
Top 10 Deepavali Gift Ideas in Malaysia 2023
Exquisite Food Hampers

Premium Tea Selection

Artisanal Spice Set

Gourmet Fruit Basket

Luxury Chocolate Assortment

Customised Recipe Book

Exotic Fruit Jam Collection

Gourmet Olive Oil and Balsamic Vinegar Set

Culinary Experience Voucher

Artisanal Cheese Platter
CakeRush's Sharing Platter
An enticing array of delectable bites for Diwali 2023, a sharing platter invites communal feasting, uniting flavours for a delightful culinary experience.
Diwali Gift Ideas for Friends
As the warm glow of lamps fills homes, it's the perfect time to honour the friendships that light up our lives. Consider gifts that echo shared interests and memorable moments. Delight your friends with carefully curated food items that evoke nostalgia or introduce them to new flavours and textures.
Gourmet Spice Set
A collection of high-quality, exotic spices for culinary exploration.
Artisanal Tea Selection
A box of handpicked, rare teas from around the world for a tea-loving friend.
Chocolate and Nut Assortment
A selection of premium chocolates and roasted nuts for indulgent snacking.
Diwali Gift Ideas for Family
Within the embrace of family, Deepavali gains its deepest meaning. This is a time when cherished recipes are dusted off, and new ones are crafted with love. Consider presenting family members with homemade sweets, each bite a testament to tradition and the enduring bonds of kinship.
Homemade Sweet Hamper
A beautifully arranged assortment of traditional and modern sweets prepared with love.
Flower Chimp's Fruit Basket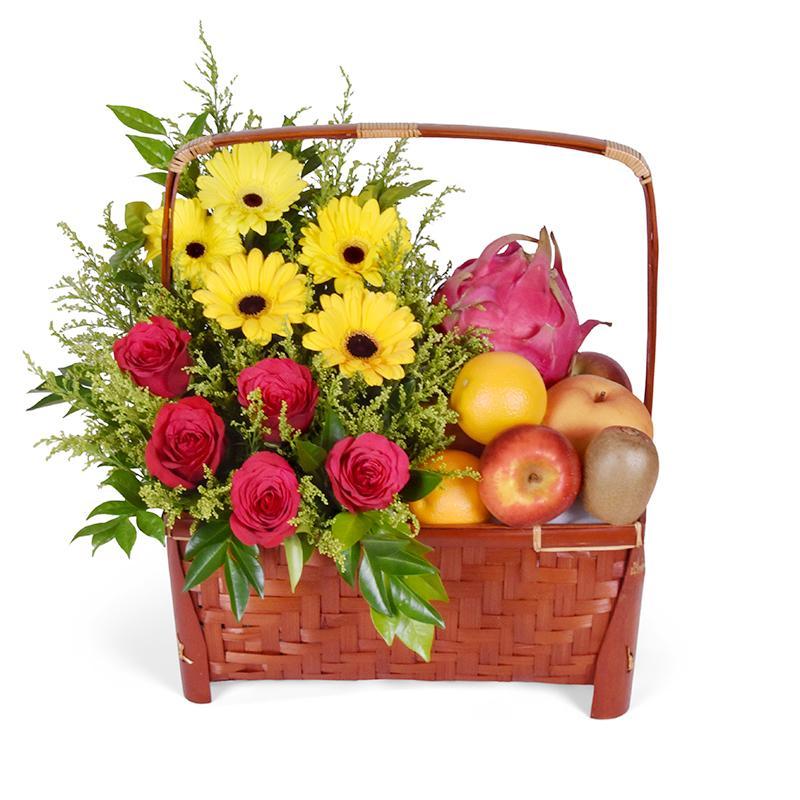 Curate a basket with a mix of seasonal fruits alongside some exotic ones like dragon fruit or passion fruit.
Artisanal Cheese Board
A variety of artisan cheeses paired with complementary crackers and condiments for a delightful tasting experience.
Diwali Gift Ideas for Wife
For husbands, Deepavali is an opportunity to shower their wives with affection and appreciation. Explore the world of culinary delights to find the perfect gift that speaks directly to her heart. Perhaps it's a rare spice, a selection of exotic teas, or a personalised cooking experience that will warm her spirit.
Luxury Chocolate and Wine Pairing: A selection of exquisite chocolates paired with fine wines for a romantic evening.

Personalized Apron: Have an apron embroidered with a special message or her name, reflecting her culinary prowess.

Culinary Herb Garden Kit: A kit with everything needed to grow a selection of fresh herbs at home, perfect for her cooking.

Cookware Upgrade: Invest in high-quality cookware, like a cast-iron skillet or a professional-grade blender, to enhance her culinary adventures.

Culinary Tour Experience: Gift her a guided food tour or a cooking class focusing on a cuisine she's passionate about.
Diwali Gifts for Neighbours
In Malaysia, Deepavali transcends religious boundaries, uniting communities in a celebration of diversity. Extend the hand of friendship to your neighbours with gifts that reflect the rich tapestry of local cuisine. From traditional sweets to contemporary fusion creations, your gesture will resonate with the spirit of togetherness.
Fusion Flavour Kit
Curate a selection of spices, sauces, and condiments that allow them to experiment with diverse global cuisines.
Assorted Nut and Dried Fruit Platter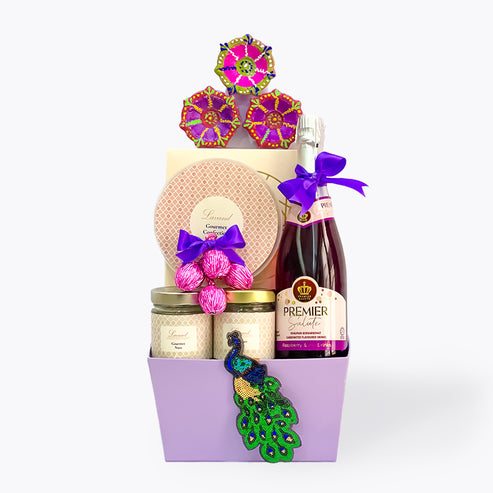 A mix of premium nuts and dried fruits, perfect for snacking or incorporating into recipes.
Handmade Chutneys and Preserves
Create a selection of homemade chutneys and preserves using local, seasonal produce.
Diwali Gifts Online
In this digital age, the world is at our fingertips, making gifting a breeze. Explore the multitude of online platforms and stores offering a cornucopia of Deepavali delights. This avenue ensures that your gifts reach their recipients with ease, even if they're miles away.
Artisanal Chocolate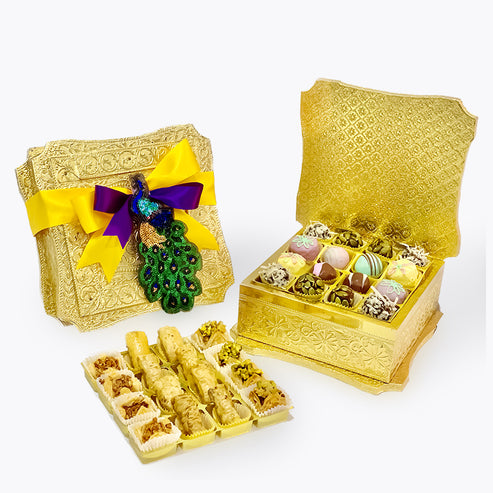 Indulge in handcrafted chocolates from small-batch chocolatiers, a delectable treat for any chocolate connoisseur.
Exotic Tea Sampler Set
A collection of rare and unique teas sourced from various regions, providing a journey of tea exploration.
Gourmet Food Basket
Order a pre-made or customised gourmet food hamper, filled with high-quality, carefully selected treats.
Hostess Gift for Diwali Party
If you're fortunate enough to be a guest at a Deepavali gathering, consider the etiquette of presenting a hostess gift. It's a gesture that acknowledges the effort and warmth extended by the host. Choose an edible gift, perhaps a beautifully packaged assortment of sweets or a thoughtfully curated collection of spices, to leave a lasting impression.
Hand-Painted Serving Platter: A beautifully hand-painted serving platter that can be a stunning addition to any festive spread.

Luxury Scented Candle Set: A set of scented candles in warm, inviting fragrances to add an ambient touch to their home.

Artisanal Fruit Basket: Curate a basket with a selection of the freshest, most vibrant fruits for the hostess to enjoy after the festivities.

Gourmet Dip and Sauce Collection: An assortment of high-quality dips, sauces, and condiments for a delicious party spread.

Custom Recipe Book Stand: A personalised recipe book stand, a practical and stylish addition to any kitchen.
Diwali Gift Box
In recent years, the concept of gift boxes has gained popularity. These carefully curated assortments offer a delightful array of culinary treasures. From traditional sweets to contemporary delicacies, a gift box allows you to cater to various tastes and preferences, making it a versatile choice for any recipient.
Premium Olive Oil and Balsamic Vinegar Set
Elevate their cooking with a set of high-quality olive oil and balsamic vinegar, perfect for gourmet recipes.
Artisan Cheese and Wine Selection
A carefully curated assortment of artisan cheeses paired with complementary wines for a sophisticated culinary experience.
Global Cuisine Spice Kit
Provide a selection of spices and seasonings from different international cuisines to inspire culinary adventures.
Conclusion
Deepavali gifts in Malaysia are more than tokens; they are vessels of love and tradition. Each carefully chosen item embodies the warmth, engagement, contemplation, and reflection that make this festival so special. As you embark on your gifting journey, let the spirit of Deepavali guide you, and may your gifts light up the hearts of those you hold dear.